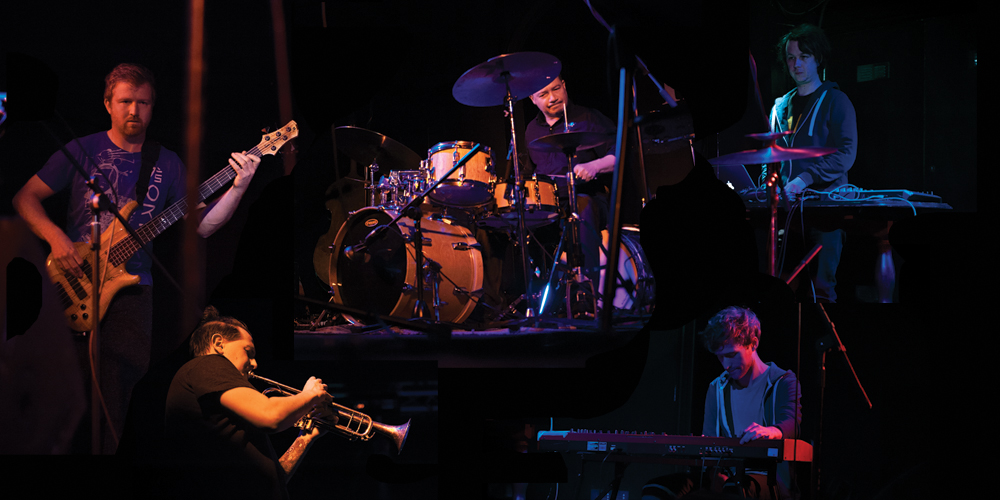 Gonimoblast is:
Chris Mapp - bass & electronics
Dan Nicholls - keys & electronics
Leafcutter John - electronics
Mark Sanders - drums & percussion
Annie Mahtani - electronics/laptop
Gonimoblast was originally put together in 2013 for the fantastic
SOUNDkitchen
night in Birmingham.
The band works with guest musicians to create music which falls somewhere in the cracks between improvised and electronic music.
The ensemble has released four albums to date. The first three are available on the
band's Bandcamp page
. The most recent double album
Live
with special guests
Maja S.K. Ratkje
and
Arve Henriksen
is available via
Stoney Lane Records
.
What they say...
"It's electronica, but with plenty of mood-swinging clout"
John Fordham, The Guardian
"One of the finest, most exciting releases of this year....exquisite production"
Fiona Talkington, BBC Radio 3
"Both sets are object lessons of how to listen to other musicians while improvising."
Mike Barnes, The Wire
"Highly original and strongly impressive"
Peter Bacon, Jazzwise
"Definitely worth an investment."
Tim Owen, Dalston Sound
"This double live album is a plateau from which to view the group's dizzying progress...It's slow burning 21st-century music for a time of ceaseless noise."
AJ Dehany, London Jazz
"It's a striking package, an art object in its own right."
Mark Sullivan, All About Jazz